RAVINDRA
President|Delcom Telesystems, PVT. LTD.|DELCOM infotech
Ravindra Singh is currently Managing Director at Delcom and boasts an experience of 28 years in the field of Marketing. He specializes in market research and has been engaged in marketing Hi-tech and high value products throughout his professional career.  He started off as a Marketing Executive at The Scientific Instrument Company, during which he engaged with several research oriented institutes in Biotechnology and Biochemistry. Subsequently in 1990, he shifted to market vertical, then called Office Automation. In January 1995, he started his own venture Delcom in the field of telecom as a partnership firm and became sales and service partner to Siemens. The company was incorporated in 2003. With the changing trends in the market he was able to visualize a shift from product oriented company to solution oriented company and in 2007, initiated solution services in the field of video, security, data, barcode, in addition to telecom.
His expertise lies in OEM relationship management, customer relations, service delivery and stitching high value deals. He is a Post Graduate in Marketing.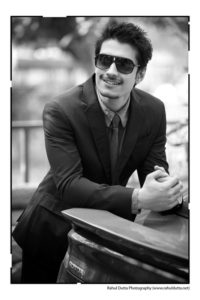 VIKRAM
Media Journalist|DELCOM infotech
Vikram started working with DELCOM Telesystems PVT, LTD, in 2012 while finishing his Bachelor in Journalism degree at university in New Dehli. It wasn't long before he was encouraged by the company to move to the U.S.A, to further his studies in Communication Arts. He arrived in New York, to focus on achieving a Master's Degree (with distinction), in the subject.
The New York Institute of Technology was a good fit for him as he gained further education to perfect his skills in all forms of communication which included his favorite topics: writing, journalism, broadcasting, photography and cinematography. Vikram felt privileged to be able to bring the information he had been taught in the USA back to his mother country. He developed a fervent intention to take the academic experiences he had gathered from America, and blend them with those he inherited in India. Feeling a strong loyalty towards DELCOM Telesytems PVT, LTD, his affinity towards the team led him to join the company and use his creative skills to branch into their department of marketing and media, especially digital media.
DELCOM INFOTECH is a project where Vikram feels enthusiastic and passionate.  He knows the importance of  people being privy to the details  of security integration. Since we live in an ever growing and changing world of technology…..what better way to do this than to be a part of DELCOM INFOTECH e-magazine.
KUNWAR
Content Writer|DELCOM infotech
Kunwar comes with significant experience as a communication specialist in various social sectors. In his professional capacity, he has been responsible for strategizing and implementing advocacy and media communication activities for several governmental organizations and NGOs. His expertise lies in initiating story ideas with journalists based on developmental sectors including health and security, mapping and engaging key opinion leaders for articles and blog development, identifying relevant media outlets for communication dissemination and maximizing content reach.
Kunwar's experience in the field of communication has inspired him to employ his skills to further Delcom's resolve to venture into digital media and become one of the leading digital magazines in the world. At DELCOM INFOTECH, as the senior writer, he is primarily responsible for providing regular articles of quality, that are based on complex information. His leadership position includes the responsibility of ensuring that stories are well researched, accurate and informative.
 
TERRI
Publisher & Editor|DELCOM infotech
As Publisher and Editor of DELCOM INFOTECH, British born, Terri, is excited to take on the responsibility of designing this particular magazine's movement, as well as co-manage the business operations of this newly created e-magazine to ensure that viewers receive high quality, accurate content. Working with a team of experts and professional individuals, Terri is motivated to see the magazine develop into a bank of information featuring security integration, that not only matches the minds of business entrepreneurs but also 
the everyday person, who simply thirsts for basic security details related to their own personal space.
In a world where technology is rapidly developing, and where we need to safeguard ourselves on all fronts, Terri's primary goal is to ensure that DELCOM INFOTECH is the preferred e-mag that viewers click on, connect with and trust. We need to think one step ahead to protect ourselves from invasions into our spaces, whether physical or personal, and Terri's main intention for everyone is that DELCOM INFOTECH is an e-mag space that YOU, our valued audience, will feel SECURE about.