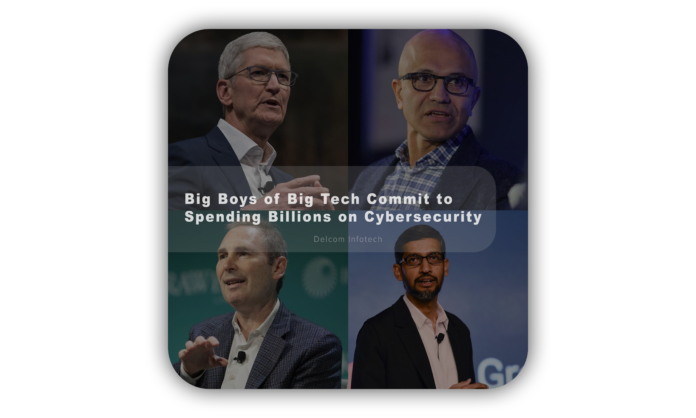 Apple, Amazon, Microsoft, Google… You name it. Big tech leaders from tech to insurance landed commitments to invest billions of dollars in increasing defense against cybersecurity after meeting with the U.S. President Joe Biden at the White House on Wednesday.
The meeting comes in with the recent high-profile cyber attacks on government-contracted Solar companies as well on the identities of those who lost their lives in the condo-collapse incident in Miami this year.
Recent cyberattacks have put an intense spotlight on this issue as and is stated as the "issue of the decade" by IBM Chair and Chief Arvind Krishna.
Raising industry standards for defense against cyberattacks, supplying the necessary technological abilities to other industries and providing skill training to individuals in order to fill almost 500,000 vacancies in the cyber sector is the primary goal of big tech.
President Biden recently signed an executive order making it mandatory for U.S. companies to use the TFA (Two-factor Authentication) system as a basic tool to verify accounts and enhance security.
Google commits to invest upwards of $10 billion over the course of five years and train nearly 100,000 Americans in IT and data fields through its Career Certificate Program in an effort to enhance their security against cyber attacks. In addition, Google pledges to strengthen software supply chain and open-source security.
Microsoft comes in with a staggering $20 billion investment commitment to develop enhanced defense tools and software against cyber attacks. Microsoft CEO Satya Nadella stated that Microsoft will invest $150 million to help government agencies upgrade their security systems and that Microsoft has been dedicatedly investing $1 Billion a year on cyber security since 2015.
Further commitments have been made by IBM and Amazon to enhance security systems for their users and help them better protect their data.
Jamie Damon, CEO of JP Morgan Chase who was also a part of the meeting at the White House called it "a very productive and collaborative discussion."
Here's a full list of attendees published by Yahoo Finance:
Financial
Bank of America – Brian Moynihan, President and CEO
JPMorgan Chase – Jamie Dimon, Chair and CEO
TIAA – Thasunda Brown Duckett, President and CEO
US Bancorp – Andrew Cecere, Chair, President & Chief Executive Officer
Energy and Water
American Water – Walter Lynch – President and CEO
ConocoPhillips – Ryan Lance, Chair and CEO
Duke Energy – Lynn Good, President and CEO
PG&E – Patti Poppe, CEO
SJW Group – Eric Thornburg, CEO
Southern Company – Tom Fanning, Chair, President and CEO
Williams – Alan Armstrong, President and CEO
Tech
ADP – Carlos Rodriguez, President and CEO
Alphabet (Google) – Sundar Pichai, CEO
Amazon – Andy Jassy, CEO
Apple – Tim Cook, CEO
IBM – Dr. Arvind Krishna, Chair and CEO
Microsoft – Satya Nadella, Chair and CEO
Insurance
Coalition – Joshua Motta, Founder and CEO
Resilience – Vishaal Hariprasad, CEO
Travelers – Alan Schnitzer, Chair and CEO
Vantage Group Holdings – Greg Hendrick, CEO
Education
Code.org – Hadi Partovi
Girls Who Code – Dr. Tarika Barrett
Tougaloo College – Dr. Carmen Walters, President
University of Texas System – JB Milliken, Chancellor
Whatcom Community College – Dr. Kathi Hiyane-Brown, President